"Passing on the Torch of Beautiful and Healthy Singing to the Next Generation"
With the assistance of faculty, singers, and colleagues, Daniel's passion for the beauty of music and his life-long commitment to vocal arts education will continue through intensive vocal training programs, events, and publications.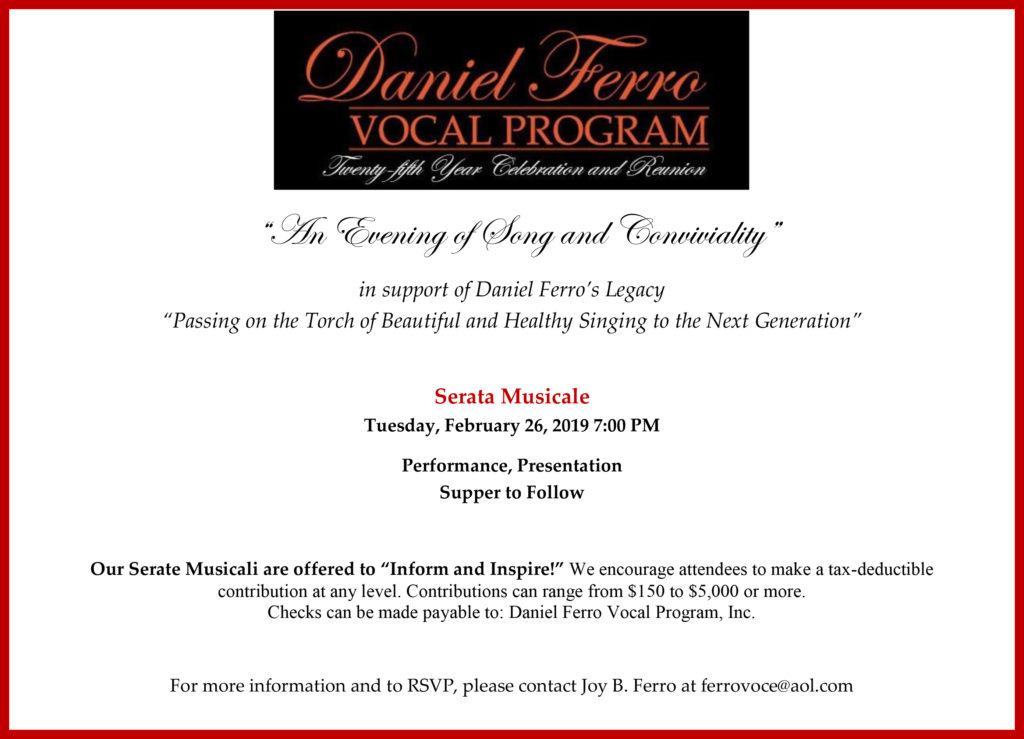 April In New York
April 9 – April 14, 2019
The Annual Celebration of Daniel's April 10th Birthday brought together Singers, Teachers, Colleagues, Friends and Supporters in a series of Serate Musicali, Master Classes, Private Sessions, and Round Table Discussions!
Details for 2019 will be posted shortly.
Thank you to all who participated in 2018. The outpouring of love, admiration, and enthusiasm to continue Daniel's Legacy was heartwarming. What splendid performances and Master Classes. Maestro would have been proud of each and every one of you. View photo gallery of 2018 by clicking "Learn More" below.
Greve In Chianti, Italy
Under the patronage of the Comune di Greve in Chianti,
Assessorato alla Cultura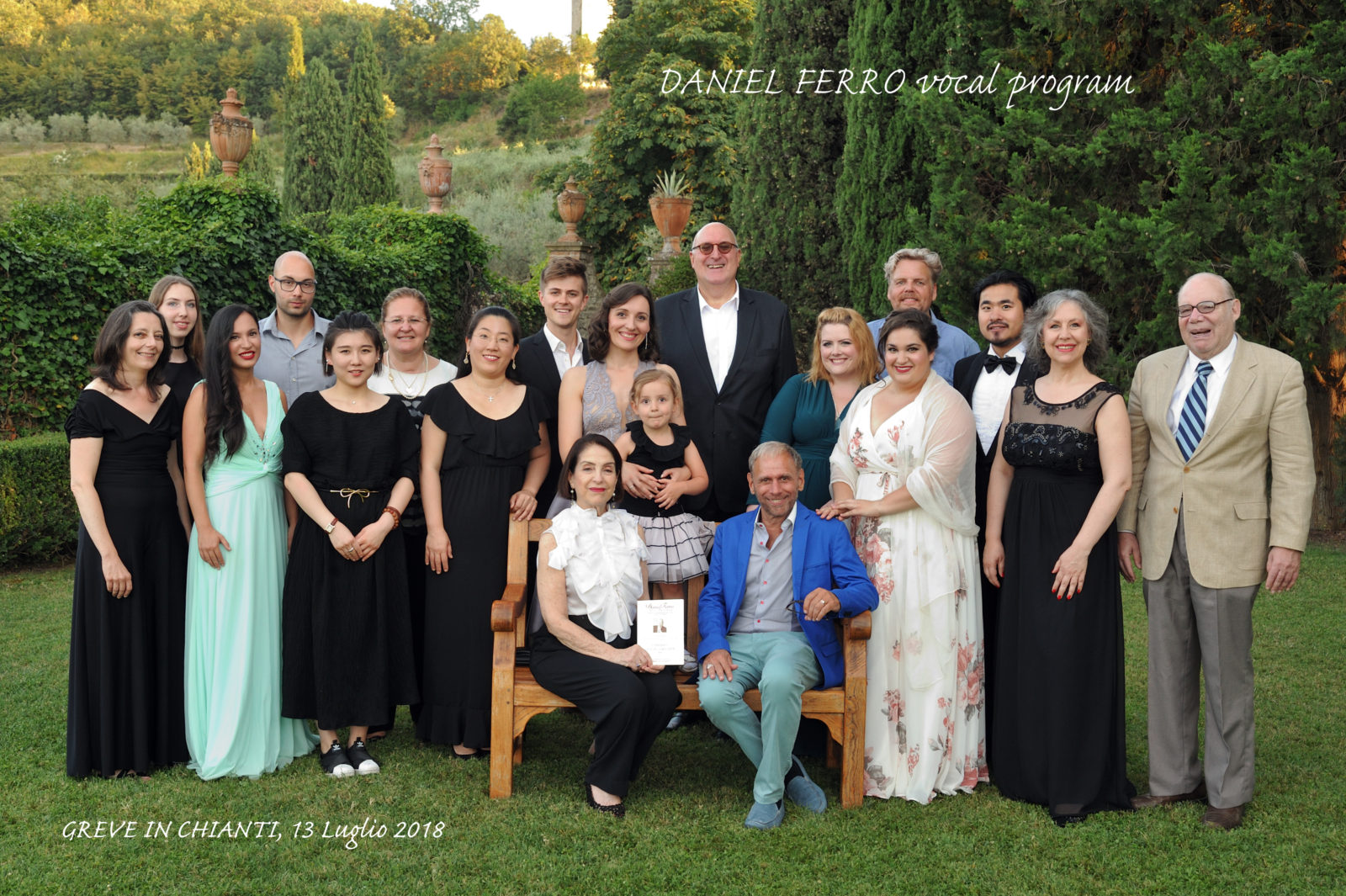 The 2018 program brought together talented singers with our outstanding international faculty to continue to share Daniel's standard of excellence in training in a supportive and intimate environment.
To quote one singer, "I have never attended a program where I have felt as safe and supported by faculty and colleagues alike."
View a photo gallery of the 2018 training program by clicking "Learn More" below.
July 8 – July 19, 2019
Twenty-Five Year Celebration and Reunion



Tribute Concert – Friday, July 12, 2019
Castello di Verrezzano, Greve in Chianti
An Invitation
For all those who have participated in the past – Faculty, Guest Artists, Participants and Visitors – You are invited to attend for a day, two days, a week or the entire time to join the celebration. Details of Concerts, Receptions, and Master Classes will be posted shortly.
The faculty has represented teachers, coaches, and musicians who share Daniel's standard of excellence in training. The past and current faculty are eager and enthusiastic to continue Daniel's work and to share his knowledge and training in a congenial, supportive, intimate environment with performance opportunities.
The participants include singers, returning to work with the prestigious international faculty and teachers, who have studied with Daniel and who wish to expose their students to an extraordinary experience in vocal arts education.
For more information about the 2019 celebration, contact: ferrovoce@aol.com
To view general information and to apply to the 2019 program, click "Learn More" below.
Scholarship at Juilliard – Daniel Ferro
BS '48 Voice – Vocal Faculty 1972 – 2006 – Vocal Faculty Emeritus
Daniel was proud of his long and successful affiliation with Juilliard. A scholarship in his name will be a tribute to his contribution to vocal arts education at Juilliard.
THE NETWORK
Join the newly formed Network of students, colleagues and supporters of Daniel Ferro as we move forward with advancing his passion and knowledge. We will be sharing events, materials and access to Daniel's extensive library as we move forward.
Daniel's Library of Musical and Technical Information
In a career which stretched across five continents and six decades, Daniel Ferro has taught some of the world's most legendary voices. His library of materials is extensive. To quote, Daniel,  "You never stop learning!" His search for knowledge was constant and continued to the end of his life.
The organization of his vast library of information including his research, audio tapes, recordings, exercises, personal notations on scores, etc. has begun and will be disseminated to the future generations of teachers and singers through publications and the "network."
For more information, please contact:
Joy B. Ferro at ferrovoce@aol.com or 212-605-0594
Art Meets Music
Art Sale in Support of Daniel Ferro's Legacy
Click here to see the available art for sale. These splendid pieces are ideal for your personal collection or as gifts. Proceeds from the art sale will benefit the activities of the "25th Celebration and Reunion" and Daniel's Legacy:
Juilliard Scholarship in Daniel's Name
April in New York Master Classes and Concerts
Master Classes, Concerts and Reunion in Greve in July
Dissemination of Daniel's Materials
To view the art and inquire about pricing please email ferrovoce@aol.com or call 212-877-3619.